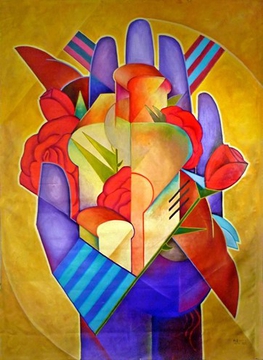 ​Bread and Roses
27 May 2020 1:08PM — 27 Jun 2020 12:00AM
Bread and Roses
One weekly essential trip made beyond my front door is to the local bakery to pick up my order of some darn fine sourdough loaves. These two large loaves feed my family; they make crunchy breakfast toast, tasty holders of sandwich fillings, and form the base for pungent garlic bread.
This food, and the care with which it is prepared, feeds our bodies. But no matter how tasty the food, we are more than just physical creatures and we need more than bread. We also need beauty to feed us.
I am reminded of the slogan "We want Bread, and Roses too!" This call was reportedly used by both American suffragettes and in 1912 by striking immigrant female textile workers in Lawrence, Massachusetts, USA. Its plea for ingredients to nourish both the body and spirit captured the popular imagination.
The poet James Oppenheim wrote a poem entitled "Bread and Roses" which states "Hearts starve as well as bodies: Give us Bread, but give us Roses" and ended with a request that all share in life's glories, of both Bread and Roses.
"Bread and Roses" is a beautiful request, but also a strange one. We know that food is needed for life, but roses seem so much more optional. Roses, fragrant flowers with thorny stems, are beautiful but they aren't necessary for life. If we think in a broader metaphorical manner then roses can symbolise those things which feed our hearts, which bring a smile to our faces and make us wonder in awe about the beauty around us. Roses represent things of beauty, true transcendent beauty. A beauty that is not just shiny baubles or glittery jewels, rather a deep beauty which feeds our hearts and make us grateful. Beauty which takes us beyond ourselves.
At the turn of the last century, the activists who called for Bread and Roses wanted food on their table but also for the scented blossoms of dignity and respect to perfume the air. This leaves us with the question of where, in these strange days of safer-at-home social distancing, are we cheered by the fragrance of beauty? What makes you draw in breath? What inspires you? What are you grateful for? These are just a few of the questions you might ask to reflect on where there is beauty in your life.
The new pattern of my days means that so much of what was my ordinary life is not accessible to me right now. However, there is still beauty in this new life; I just have to more carefully and intentionally search it out. I appreciate the beauty of flowers in my garden, but as a Christian I also look for beauty in holy ways inspired by God's Spirit.
An early leader of the Christian Church, Paul, in a letter to the Church in Galatia declared, "the fruit of the Spirit is love, joy, peace, patience, kindness, goodness, faithfulness, gentleness, and self-control." Paul's words help me appreciate the beauty of neighbours helping neighbours who have to self-quarantine. As Ralph Waldo Emerson said, "Never lose an opportunity of seeing anything beautiful, for beauty is God's handwriting."
In times like this when our usual outlets for beauty may not be available, we may have to look harder. Our ability to get through this unprecedented situation in one piece is not just about making sure there is bread on our table, but also about beauty feeding our hearts.
Methodist ministers are here to support you in feeding body and soul, whether you are religious or not. If you would like to explore these questions please be in contact; you may need to leave a message and we will get back to you. Together we can seek out beauty, to insure that our lives are nourished by both bread and roses.
Blessings,
Rev'd MindyBell
(Extract from the University of Birmingham Chaplaincy Newsletter - 4th May 2020)
"Bread & Roses," a painting by Mike Alewitz in memory of the 1912 Lawrence Textile Strike
https://commons.wikimedia.org/wiki/File:Bread_and_Roses_Mike_Alewitz.jpg
Back to events