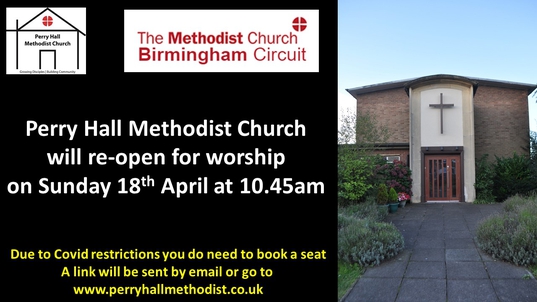 Perry Hall Methodist Church will re-open for worship on Sunday 18th April at 10.45am
Due to Covid restrictions you will need to book a seat. A link to an online booking system will be sent by email and posted on this website.
Our two new pages continue to be updated which we hope you will find helpful.
---
Dealing with grief
During this season we will suffer losses - big and small, life-changing and seemingly mundane. As churches we often avoid the difficult emotions of sadness, anger and fear in our lives together. But those in the know tell us that suppressing those emotions also suppresses our desired emotions of joy and excitement and often leads to depression and hopanxiety. It is healthy to feel sadness, anger and fear, offer those emotion to God and move on. We pray this song may help you.
---
Praying and Preaching for Racial Justice
Read a blog from the Revd Dr Jonathan Hustler, Secretary of the Conference here.
---
Click here to view upcoming events in our community
---